Being single can be frustrating for many reasons. The annoyance of having to put up with everyone else's opinion about your love life makes singledom even worse. This nosey concern is typically followed by well-meaning tips to help you find "your person." However, being in a relationship doesn't make you qualified to give dating advice. How long has it been since you were single? And serial daters are no better, the objective is to find the right person for you.
However well intended, when friends and family give dating advice it's usually biased, judgemental, and/or based on personal experience which is different from your situation. That doesn't mean it will actually help you — or that you should trust it. It could actually keep you single. Check out How to Respond to, "Why Are You Still Single?"
So how do you know what advice to follow? First and foremost, always trust your instincts! I had a female client come to me after she spent a lot of money on a male dating coach who told her to have sex with the guy she was dating. She hadn't known him very long and wasn't ready to get intimate yet. Unfortunately, she followed that unqualified coach's advice anyway and the date never called her again. She was devastated. Dating is supposed to be about connecting with someone in a way that feels comfortable to you. The beginning of a relationship is easy when it's right. Therefore, never trust anyone's advice that doesn't feel right to you.
Having said all that, getting professional advice is the best way to find your person. Many of my clients come to me for coaching because they know they're doing something wrong, they just don't know what it is. One beautiful girl told me, "I get a lot of first dates but I never get any second dates." At first, I was baffled, she was amazing. But then I looked at her online profile. To me, it sounded like she was only looking for a hookup when in fact she wanted a long-term relationship. I helped her fix it and she met a great guy.
You don't know what you don't know. Online is absolutely the best place to find your person. The perfect solution is a great new high-quality dating app called Cove. You can access professional dating and life coaches right in the app.  Including me! (The male dating coach mentioned above is not!) Plus, this app has corrected the problems that hamper most dating apps. If you're tired of either hook-up app behavior or wasted time with idle texting conversations try Cove — it's free. It's intended for Xennials (30 & 40 somethings) but it's now open to everyone. Sign up with my promo code DBarnes to get an added bonus (see more below).
Find Your  Person in the COVE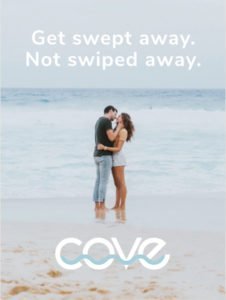 Cove is a digital dating experience for a busy generation who chooses to separate from online hookup culture. Uncover chemistry through deeper and more meaningful forms of communication. Advance the depth of conversation from text to audio, and then to video; all within the app. Through video messages, you are able to meet your date before the date. This way you can ensure Jessica is actually Jessica. No more getting catfished.
OPTIMIZE YOUR DATING GAME
Get direct access to professional dating and life coaches who can get you out of a jam or take your game to the next level. I'm one of them! Text, voice-messaging, or video chat with me or other vetted coaches.
3 SHOTS AT CHEMISTRY IN 7 DAYS
Once matched, three levels of communication must be completed over the span of 7 days to allow you both the opportunity to find chemistry by progressing the depth of their conversation. Each level is passed once a finite number of messages are exchanged and the matches mutually agree to "Dive Deeper".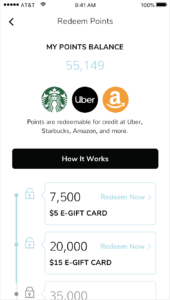 EXCITING PERKS FOR WOMEN         
Cove loves to spoil women. Cove believes a woman deserves a chivalrous man. So we've set up a system where gentlemen can send virtual Gift Likes that women can retrieve in real life. It doesn't end there, a loyalty reward system has been set up to thank women for their time spent on the app. Points that are redeemable for credit for at places such as Uber, Starbucks, Amazon, and more.
EXCITING PERKS FOR MEN
Show her chivalry is not dead. With Gift-Likes you can send her a small but thoughtful gesture that can redeem in real life, which drastically increases the chance of a match, and demonstrates genuine interest as well. Gift-Likes are guarenteed—as in, if she's not interested the gift-like will go back to your account.
MUTUAL VETTING
Both men and women can browse other members according to personal preferences like age, distance, and height. To get rid of mindless swiping (an approach used by many other dating apps) and to ensure everyone is being selective, we've limited the amount of likes to 100 per month. However, if you sign-up with my code, DBarnes, you will be allotted an additional (free) 100 Likes each month (total of 200 Likes to use). 

Download COVE now and enter my code DBarnes to get your extra 100 likes a month!